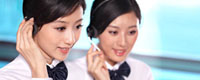 Name: Jake Niu
Tel: +8617332379552
E-mail: info@pinyeehb.com
Add: East of Pengzhao village, Xiaoqiao Town,Jinzhou County, Shijiazhuang City,Hebei, China 052260
Skype: jake.wiremesh
whatsapp: +86-15932484605






Company News
>> Architectural Mesh Interior Decorative Project
Here we'd like to share some ideas about simi flexible mesh. This architectural mesh is woven by stainless cable & rod, and it's the most common architectural mesh widely used for interior & architectural design.
In this project, designers use lots more of it for interior partition which we've ever ask why, and really thanks for him that we could understand more about our mesh.
1.) the mesh is able to see through. this is the necessary character when we made choice.
glass & mesh are the final two in our mind,both of them able to achieve our goal "the sensory of whole space can not be too crowded". And finally we catch by the beauty of bamboo curtain like mesh. with more layers you see though the hazy vision will bring you another sense of beauty.
2.) To consider the project cost is what we have to do. This mesh is really easy on the installation. just with some eyebolt, we can easyly arrange the whole project in three days,
3.) And finally, we will need to consider the maintenance cost when this place started running, Architectural mesh is much easier to maintain. Only with moist cloth, we can easily move the stains & you do not have to worry the fingerprint problem.